Horrifying Hairstyles from Salon Slappy
Sometimes Slappy likes to try out other hairstyles. But he is not sure if they really give the effect of horror, so he switches back to his normal mop of terror hairdo. Here is how Slappy looked during his Little Lord Fauntleroy phase. Does it not look spooky?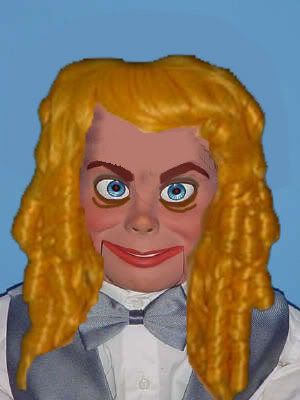 Some say he looks like Shirley Temple, but trust me, Slappy was not singing Good Ship Lollipop at children's birthdays. Well not after that one time when he had to maim the Colonel with a steak knife. Oh how the children howled with fright to see the sharp implement of pain sticking out of the top of the Colonel's head.
Slappy also heard that redheads have a certain charm that others lack.
But Slappy always felt he looked like Little Orphan Annie after she got trapped in a salon with Jose Eber and his Secret Hair. Trust Slappy, no one wants to see Jose's secret hair. Slappy once got stuck in an elevator with Jose and he still has nightmares about Jose's tussel with Slappy's master. It was very disturbing.